| | | |
| --- | --- | --- |
| Never again! Demand justice for José Antonio | | |
Thursday, 11 April 2013 13:41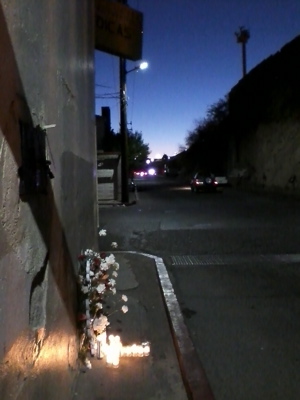 Memorial for José Antonio Elena Rodríguez at the site of his death after a demonstration and vigil on the six-month anniversary. The surveillance tower and border wall loom overhead.


On the night of October 10, around 11:30 p.m., José Antonio Elena Rodriguez, a 16-year-old resident of Nogales, Sonora, Mexico, was shot dead by US Border Patrol agents through the border fence, while walking along the street to visit his brother at work.

On the six-month anniversary, help us renew the demand for justice.

For 6 months, his family and their supporters have faced a wall of silence trying to learn the truth about what happened that night. Border Patrol, the FBI, and the Department of Justice have all been unwilling to release information about their "investigation" that so far has yielded no answers—no names of the agents involved, no information on their active duty status (according to policy, they are most likely working in the field to this day), and no release of the video taken by a border security camera.

This shooting was not unique. The lack of public information or accountability for the agents involved is universal in these cases. There have been 18 violent killings by Border Patrol/Customs and Border Protection since 2010. Among them is Ramsés Barrón Torres, 17, who on January 5, 2011, died in Nogales like José Antonio, on Mexican soil. March 30 also marked the two-year anniversary of excessive force used against José Gutiérrez, who was violently beaten by Customs and Border Protection agents at the San Luis Port of Entry and was in a coma for weeks. The statute of limitations has now run out, and no charges were ever filed against the agents involved.

Please join us in demanding action NOW from the Department of Justice.

The agents that killed José Antonio fired on him from atop a 25-foot embankment, from behind the 20-foot-tall steel border wall and a dense area of foliage, and 30 feet across the street. Those who visit the site come back with no doubt that this was an unlawful and entirely pointless killing.

New details on the José Antonio Elena Rodriguez case strengthen the argument that he was an innocent bystander. A new eyewitness reports that José Antonio was simply walking down the street, and was not involved in rock-throwing against agents at the border wall. The autopsy report released by the Mexican government gives a chilling account—the boy was struck by between 8 and 13 bullets, mostly in the back after he was already on the ground.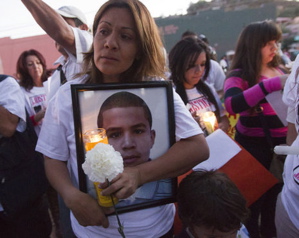 Araceli Rodríguez Salazar, mother of José Antonio.

Please join us in urging the Department of Justice and the FBI to act transparently and decisively.

The excessive use of force that resulted in José Antonio's, Ramsés's and 16 other deaths is not the action of isolated "bad apples." Rather, it is a consequence of the Border Patrol's militarized approach to border enforcement, and it shows a callousness that is consistent with the findings of No More Deaths' 2011 report Culture of Cruelty, which documented a 10% rate of physical abuse by Border Patrol agents against migrants in their custody.

We seek justice for José Antonio's and Ramsés's families, and an end to these killings. Please take the following actions:

ACTION:
Send letters to the Attorney General calling for criminal prosecution. This e-action tool makes it very simple.

ACTION: Send a bloody handprint like this one with the message "Blood is on our hands" to the Attorney General and the US Attorney for Arizona. Print out ours or make your own! Be sure to include your name and address.

ACTION: Tell everyone you know to visit nomoredeaths.org/nomasmatanzas and join us. Blood is on our hands. The power to stop this is also in our hands.

This campaign continues. Thank you for your support.